The world will give you that once in a while, a brief timeout; the boxing bell rings and you go into your corner, where somebody dabs mercy on your beat-up life.
What is your first thought on reading this quote from Sue Monk Kidd's, The Secret Life of Bees?
Where does it arrest your attention?
Who has done this for you: 'dabbed mercy on your beat-up life'? How?
For Monk Kidd's protagonist, Lily, who was running from home and from a terrible guilt, somebody provided her with a safe place to be and the absence of expectation that she give more than she wanted to– of herself or physical labour.
For me, it was Jill, who at the lowest ebb of my life and despite my obvious failure, brushed the knuckle of one finger across my cheek and told me I was beloved.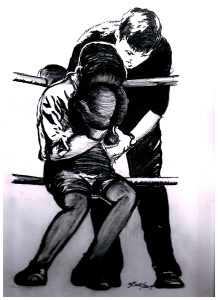 This line from The Secret Life of Bees stays with me for a number of reasons:
There is the source – a sense of the cosmic giver, thought of by Monk Kidd as the world, who brings the gift of mercy to your corner.
There is a sense of reprieve – a timeout in the midst of the storm, from the unrelenting pain.
There is the 'somebody' with whom the world has so conspired to cross your path.
And then there is the dabbing of mercy on your beat-up life.
The image starts from a cosmic view where you are the speck on the bigger stage and finishes with the spotlight on your wounds – the cut above your eye or the split lip, wounds that have been sustained in the boxing ring of life. And someone treats these wounds with tenderness, touches them lightly, staunches the blood and applies healing salve. The salve may well be cooling and bring relief, but the lightness of the touch, implied in the word 'dab', is where the mercy lies.
The hand that brings mercy is light. And you who receive it, are blessed.
Having thought about who has done this for you, who could you pass it on to, this dab of mercy?
What form could that take?