Whoever visits a sick person is plunging into mercy until he sits down, and when he sits down he is submerged in it.
Silsilah Al-Saheehah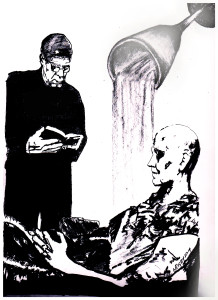 I came across this quote from the Islamic prophet, Muhammad, when I attended a professional development day at the Islamic Council of Victoria. The event had begun at 6.00am so that participants could observe the early prayers of the Muslim day, and I wasn't too alert as someone talked about the needs of Muslim patients in hospital. Until this quote appeared on the screen.
Now, I was awake, grabbing a pen and writing it down. Later, I asked the speaker about Silsilah Al-Saheehah. Who or what is this? She informed me that this is the name given to the authenticated sayings of the Islamic prophet, Muhammad; the literal translation is 'The Authentic Series'.
At the time, I was working in pastoral care in a public hospital and it spoke  directly to my work. This is what I was doing – visiting the sick, usually sitting at their bedside. I had thought of myself as offering mercy, perhaps even bringing it with me, but the prophet, Muhammad, turned that notion on its head and revealed the egoism in it.
Mercy precedes me whenever I visit the sick. It is already there.
I enter into it, more than that, I immerse myself in it. Mercy envelopes me.
In the action of visiting the sick, I gain as much as I may give.
I shouldn't have been surprised by this notion as I knew its truth from experience. When I was twenty-three years old, I gave birth to twin boys. They were eight weeks premature and while one has grown to manhood, the other only lived for four days. He died after we had given permission for life support to be discontinued. We were told we could stay until the end, but if we didn't a nurse would sit with him. I could not and did not stay. I had no experience of death at that time and no resources on which I could draw.
More than twenty years later I met another twenty-three year woman whose son would not live. She was still in the labour ward, but had asked that he be removed from the room. She could not watch him die. Would I sit with him?
It was after hours. How long could I stay, how long would it take? These were the uppermost questions when I first sat down beside him, but after a time, they no longer seemed relevant as it dawned on me that I was doing something for this young woman that another woman had done for me. I would stay as long as it took.
When I left the hospital that night, I knew a circle had been closed and I had received more than I had given.  Moreover, it was Lent and resurrection had come to me.
I plunged into mercy when I entered that room and as I sat there, I was submerged in it.